The 2015 Breeders' Cup Juvenile appears to be a wide open affair. The favorite may go off at odds of 4/1. Looking at the race, I've spotted a few horses who I feel will be overlooked at the window, and that may be a mistake because I truly see this race as the one juvenile race with the greatest chance of a horse with long odds pulling off the upset. Here are the three I've singled out.
Unbridled Outlaw: Trainer Dale Romans, Race Record: 3-1-0-2, $36,270, (Unbridled's Song-Letgomyecho by Menifee)
Unbridled Outlaw's last race on September 12 in the Grade 3 Iroquois Stakes at Churchill Downs was a nightmare. Finishing 3rd, three lengths from the winner Cocked and Loaded, he was checked hard at the 7/16th and 5/16th pole, continued 4 wide into the stretch and was gaining in the end. They stopped the clock going 1 1/16 miles at 1:44.94. This was an excellent performance for this 2-year-old's first stakes race, and I'm pretty certain he gained some experience from it. Here is the video:
Unbridled Outlaw broke his maiden going 6 furlongs at Ellis Park, in which he ducked in at the start and hit the rail. He was still able to drive past the headers and win by 1/2 a length as the 2/5 favorite. While his Beyer Speed Figures are below many in this field, you can see that he's had quite a bit of bad racing luck in his last two starts. I feel that this horse has quite a lot of upside to him, and if the pace is hot, he may become the benefactor. Here is a look at his pedigree.
Unbridled Outlaw is by Unbridled's Song, He was the winner of the 1995 Breeders' Cup Juvenile. At stud, he produced over 100 stakes winners, including the 2008 Two-Year-Old Champion and Breeders' Cup Juvenile winner Midshipman. So being a son of his in the Breeders' Cup Juvenile only enables your chances. His dam, Letgomyecho, won the Grade 2 Forward Gal Stakes at 7 furlongs. Unbridled Outlaw's dam sire, Menifee, earned $1.7 million dollars on the track. in 1999, he won the Grade 1 Haskell Invitational and Grade 1 Bluegrass Stakes, finished 2nd in the Kentucky Derby and Preakness Stakes, and finished 3rd in the Travers Stakes. Menifee stands in Korea, where he has been the leading sire from 2012-2014.
Conquest Big E: Trainer Mark Casse, Race Record: 2-1-1-0, $41,240, (Tapit-Seeinsbelievin by Carson City)
Out of the 4 articles I've written on Breeders' Cup Juvenile value plays, this horse is my favorite one to win. Not only is he running in what I consider to be the most wide open field of the four, but I see this lightly experienced horse as the most talented. He is by Tapit, he's won over Keenland dirt, he's raced against great company, he has an excuse for his loss, and he is running his third race in peak form. Let me explain.
Conquest Big E ran 2nd in his maiden to Brody's Cause on Sept. 11 at Churchill Downs, who flattered him by winning the Grade 1 Breeders' Futurity his next race out. Wearing blinkers, Conquest Big E had an unfortunate trip that day. Conquest Big E broke in the air from the one-hole, pulled his way up toward the lead, and was unable to resist a late charge by Brody's Cause, who won the one-mile race by 1 1/4  lengths. "How we only got beat a length by [Brody's Cause], I don't know, because he did everything wrong," Casse said. Shedding the blinkers on Oct. 2, Conquest Big E was much more professional, winning by 2 1/4 lengths in the slop in 1:44.42 going 1 1/16 miles. The 2nd place horse, Deep in a Dream, won his next out. Here is a video of is maiden score:
http://www.bloodhorse.com/horse-racing/race/USA/KEE/2015/10/2/5/race-5-msw-at-kee-on-10-2-15
Trainer Mark Casse is very high on this horse, saying, "He just got beat [in his debut], and we had a terrible trip that day. I have a lot of confidence in that horse. I think he's a really good horse."
Conquest Big E seems to be coming into the race nicely, with a big workout on the Churchill Downs dirt on October 15. He easily outdistanced himself in company with stablemate Conquest Windycity, putting in a 1:00 bullet and 2/40 for the day at the 5 furlong distance. Casse commented, "Conquest Windycity's not a bad horse himself. I was surprised with how easily [Conquest Big E] handled him. He was impressive."
Conquest Big E will be overlooked at the window because he is only a maiden winner. But with a clean trip, he just may have beaten Brody's Cause, who may go into the Breeders' Cup Juvenile as the favorite after his win in the Grade 1 Breeder's Futurity. Conquest Big E should be forwardly placed in this race devoid of much speed, and if he can get the first jump on the leaders (or inherits the lead), we may be looking at a very dangerous horse to reel in. Here is a look at his pedigree:
Conquest Big E was purchased as a yearling for $700,000 and is by superstar sire Tapit. On the track, he earned over $500,000, winning the Grade 2 Laurel Futurity at two and the Grade 1 Wood Memorial at Three. In the breeding shed, this year he has a chance of breaking his own record for single season earnings, which he accomplished last year. Out of the 5 Breeders' Cup Champions he's produced, three have been in Juvenile races. Conquest Big E's dam, Seeinsbelievin, produced the stakes-winning filly Aquapazza. Seeinsbelievin is a half-sister to graded stakes winners Softly and Coragil Cat; it is the family of graded stakes winners Til Forbid, Sara Louise, Just Louise, and Mister Marti Gras. His dam sire is Carson City. He is a Chef-de-Race stallion who produced 84 stakes winners and two dozen Graded Stakes winners. He was a known speed influence. Overall, Conquest Big E's pedigree flashes a bit of speed on both his paternal and maternal side. It is also a very strong one as well.
Tale of S'Avall: Trainer Barclay Tagg, Race Record 2-1-0-0, $70,800, (Tale of Ekati-S'Avall by Awesome Again)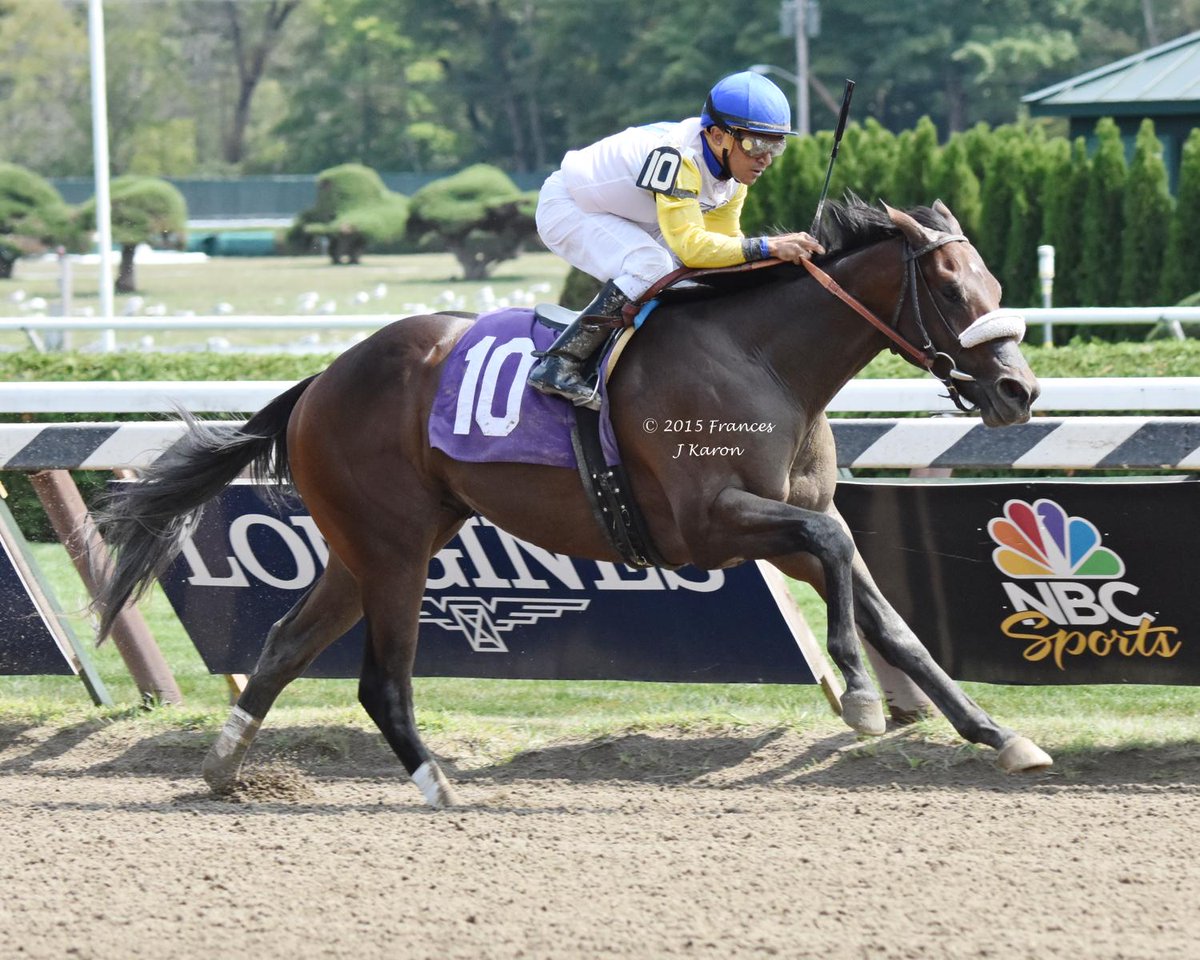 Tale of S'Avall broke his maiden at Saratoga on August 29th running 6 furlongs. Running without Lasix, he broke from post 10 and chased the pace mid pack before swinging four-wide into the stretch and driving to the wire to win impressively by 2 lengths. Tale of S'Avall stopped the clock at very good time of 1:10.25. Barclay Tagg is not one to have his maiden runners fully cranked up, so his performance was one to take note of. Here is the video replay.
http://www.bloodhorse.com/horse-racing/race/race-results?startDate=8%2F29%2F2015&endDate=8%2F29%2F2015&trackLookupId=1684&type=AllRacing&statesBred=&searchStateBredPlacers=false
Stretching out to a mile and dropping in to deeper waters in the Grade 1 Champagne Stakes, Tale of S'Avall inherited a lead he probably didn't want and was pressured for most of the race before succumbing and tiring towards the wire, finishing fifth. It was a sloppy surface, which may have not been to his liking. Here is the video:
Tale of S'Avall showed plenty of talent in his debut, and if he can run back to that race and sit mid pack in the Breeders' Cup Juvenile, he has a chance to be right in it at the finish. Here's a look at his pedigree.
Tale of S'Avall is by Tale of Ekati, an earner of over 1 million dollars. He was a classy horse, who Contested 14 consecutive Graded Stakes after debut 8 1/4-length Maiden Special Weight win. Tale of Ekati won the Futurity Stakes at two, and won the Grade 1 Wood Memorial, the Jerome Stakes, and the Grade 1 Cigar Mile at three. In the breeding shed, he's produced 6 black type horses, including Preakness Stakes runner-up Tale of Verve and G1 winner Ekati's Phaeton. Tale of S'Avall had a full sibling sell for $500,000 ass a yearling at auction. His dam, S'Avall, was unraced, but his granddam, Pleasant Home, was the winner of the 2005 Breeders' Cup Distaff. Tale of S'Avall's dam sire, Awesome Again, earned over $4 million dollars and won the 1998 Breeders' Cup Classic. At stud, he is currently the #1 active sire in Grade One dirt winners and has produced 4 Breeders' Cup Champions.